About Us
Who We Are
Individualized Care
We see our kids as individuals and desire to care for them in a way that meets the unique needs of each child.
Family
We believe that the best way to raise our kids is to give them a stable home environment where they can receive consistent love and encouragement from committed parents and caregivers.
Funding
Through the generosity of private donors, the cost of our general operations are covered. That means 100% of your money goes straight to Miqueas 6.8 projects!
"It's quite simple: Do what is fair and just to your neighbor, be compassionate and loyal in your love, and don't take yourself too seriously—take God seriously"
- MICAH 6:8, MSG -
Projects
What We Do
Under One Roof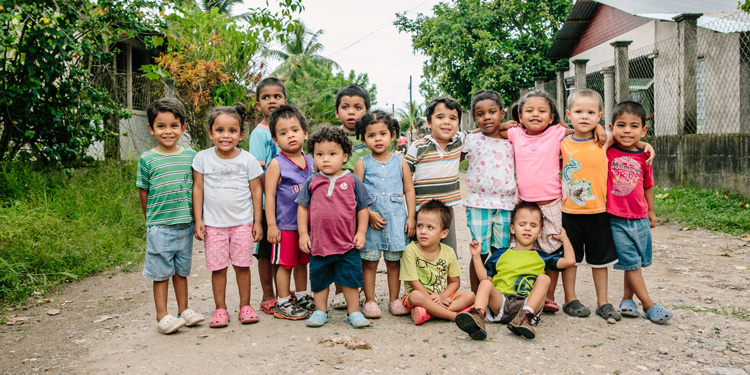 It has been Jacob and I's greatest desire to have our kids better understand family roles in a family setting. However, we have been confronted with a few obstacles in our current house. With a lot of prayer, research, and guidance, we believe that it is time to build a house that not only provides a better home environment for our family, but also resolves some of our existing concerns. Upon completion, this new house will accommodate the youngest children, all the girls and us. The boys will then be moved back to the existing home so that we can all live together as a family. Learn More
Our Story
HOW IT BEGAN
The Need
The need is great. Many children in Honduras suffer from neglect, abuse and extreme poverty. We believe that we can help these children by providing them with a safe, loving and nurturing home. Here, they can grow, learn and have hope for a better future.
The Home
In 2006, the vision to provide a home for vulnerable children was established and plans were underway to build a house where 30 children could live and grow as a family. A bond to the community was formed as Miqueas 6.8 helped in local churches and public schools and would eventually provide employment to the people of the community as well as surrounding communities. In April of 2010, Miqueas 6.8 officially opened its doors and within six months, it was home to 17 children. Within the first three years, the home grew rapidly and was at overcapacity with 39 children. Because of the lack of functionality of the current main house and with the rapid influx of older children, it was decided to have all older boys sleep in another house within our village. In 2014 construction began on a new residence.
The Team
Miqueas 6.8 is made up of a team of unique individuals from the United States, Canada and Honduras. Atlanta, Georgia is where the founder and board members reside providing valuable assistance to the Honduran side of Miqueas 6.8. Jacob and Melody Cherian are the Directors in Honduras with a staff of 16 Honduran nationals and a team of long-term volunteers that work alongside the staff providing valuable help in different areas.
The Vision
We have taken in children from all over Honduras who were living in deplorable situations. As most children have biological parents or family they are labeled social orphans and have little to no chance of returning to their biological families. When the children come into our home, we provide them with the tools to develop physically, emotionally, mentally and spiritually. We believe an important factor to their success is providing them with a forever family, which includes stable parents. Our vision is to see them grow into outstanding adults who will break the cycles of poverty and live as responsible citizens of their country.
The Parents
Jacob and Melody Cherian serve as the Directors of Miqueas 6.8, but their greatest role is being parents to their 39 kids. Jacob, a Professional Engineer and Melody, a Human Resource Manager, came to Honduras in September of 2009 from New York to serve the community of La Colorada and the children of Honduras. As Jacob and Melody lived daily life with the kids, they realized that meeting the basic needs of food, shelter and education were a start but if the children never felt the love of an earthly father and mother and the bond of a family, there was a chance they would possibly not reach their fullest potential. Everybody has an innate desire to have and call someone father and mother. It was put on the hearts of the Cherians' to raise the children as their own and they have joyfully taken on the role of Papi and Mami. They do everything from delighting in first steps, the loss of first teeth, grocery shopping, attending parent-teacher meetings at school and putting the kids to bed at night. The children are able to witness and experience family in their everyday lives.
The Kids
With 39 children in one home, there is never a dull moment. Each child is incredibly precious and resilient. Each child displays a unique personality which makes for a fun, exciting and unpredictable atmosphere. They are smiling. They are lively. They possess an infectious energy and optimism that daily brings happiness to their parents and the staff who work with them. They once were called orphans, but in our home they are called son and daughter, brother and sister. With their growing knowledge of Jesus Christ, a safe and encouraging environment, nutritious meals, excellent education, medical care, and a forever family, their futures are bright. The successes we have experienced are beyond what we could have ever imagined. The road is long and tough but God is faithful and the children are learning to live up to their potential. As the children continue to grow, our efforts expand as well. As our team works with the children daily to nurture their development, we need your support and prayer to raise our children.
The Future
All children deserve the opportunity to learn about Christ, explore their own identities, and pursue their passions in a safe and supportive environment. As we live everyday life we strive to give each child the care and attention they deserve. We look forward to seeing a bright future with a new generation of Hondurans serving God and their country.
Get Involved
Participate
Donate Now
How To help
100% of your donation goes directly to Miqueas projects
Contact Us
Get in touch
Miqueas 6.8 USA
1643 Mt. Vernon Road, Suite 200
Dunwoody, Georgia 30338
info@miqueas68.org
Miqueas 6.8 Honduras
Aldea La Colorada, El Progreso, Yoro
Honduras